Hostel | At Näset, about 4 km north of Älvdalen with a view over Nässjön, is Näsets bystuga located with up to 20 beds.
A big room which also is the dormitory. A big fully equipped kitchen for groups. Stove, oven, fridge/freezer, dishwasher, microwave, coffeemaker and a kettle. Bathroom with toilet and shower. Big porch and a playground.

Pets are not allowed.
Compare "Näsets bystuga" with similar alternatives
What could be more inspiring than to wake up close to water and nature, far from every day stress and commitments. Älvdalens Camping is beautifully situated by the shore of the river Österdalälven.
A quiet camping area in a beautiful location by the Österdalälven's beach.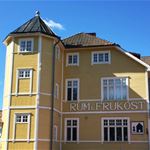 Tre Björnar (Tree Bears) a cosy hostel with ten rooms. Wintertime you can crosscountryski, drive snowmobile, go fishing. In Summer you can hike in the wilderness, pick berries - mushrooms, go swimming, visit the Music and Motorfestival. And- just relax.