Hostel | At Näset, about 4 km north of Älvdalen with a view over Nässjön, is Näsets bystuga located with up to 20 beds.
A big room which also is the dormitory. A big fully equipped kitchen for groups. Stove, oven, fridge/freezer, dishwasher, microwave, coffeemaker and a kettle. Bathroom with toilet and shower. Big porch and a playground.

Pets are not allowed.
Compare "Näsets bystuga" with similar alternatives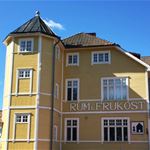 Tre Björnar (Tree Bears) a cosy hostel with ten rooms. Wintertime you can crosscountryski, drive snowmobile, go fishing. In Summer you can hike in the wilderness, pick berries - mushrooms, go swimming, visit the Music and Motorfestival. And- just relax.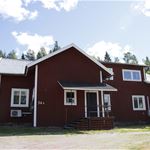 In Gåsvarv, about 5 km south of Älvdalen, overlooking the Österdalriver and the nature around the corner. From here you can walk straight out into the wilderness along the old mountain trails, marked as hiking trails. The village bystuga available to rent for accommodation, meetings and conferences.