STF Hostel Älvdalen Tre Björnar
Address

: Dalgatan 31, 796 31 Älvdalen
show map
Location: Älvdalen central
Hostel | Tre Björnar (Tree Bears) a cosy hostel with ten rooms. Wintertime you can crosscountryski, drive snowmobile, go fishing. In Summer you can hike in the wilderness, pick berries - mushrooms, go swimming, visit the Music and Motorfestival.
Tre Björnar was built 1916. Here you stay in a homely house with different fireplaces, wallpapers with flowers, a mixture of old and new furnitures. There are basins in most of the rooms and you share toilett and shower with the other guests. There is one room with separate toilet. In a house out in the garden you find a sauna, just let us know and we heat it up for you.

We serv breakfast including ecologic coffee/tea, homemade bread, farm eggs, local ham and sausage, homecooked jam etc. We have a garden where you can sit and relax or just do as the kids do, after many hours in the car, - just run around.

In Älvdalen you find magnific nature, high mountains, pouring streams, clean lakes, nice hiketrails. If you translate the words Älvdalen and Dalarna it means RiverValley and and the Valley, you will understand why....
What to do in Älvdalen......: crosscountryski in professional tracks, drive snowmobil in prepared trails miles and miles, visit the Hagström and the Porphyry museum, take a trip with horse and carridge, just relax, learn the language of Älvdalen (some words are the same as in english), sit under a sheepskin and listen to the jinglebells when the wonderful horse Julle pulls the sleigh - you can do alot in Älvdalen.

For those simply wishing to enjoy pleasant accommodation for a few days, Tre Björnar is a home from home. You can prepare your own breakfast or enjoy something from the breakfast menu in the dinning room while you read the morning papers. We also have a selection of books and magazines so you can relax in an armchair and read.

If you need more activity, we can offer skiing in the winter, both cross country and downhill. In the summer, you can hire a canoe and paddle down the calm river. Bikes of a simpler model can be hired for those who want to discover the surroundings or take a trip to a farmyard.

On request we can organise guided tours of the area. Our specialities include cultural and wilderness trips as the hostel managers are archaeologists by trade.
Facilities and services
Facilities

Pets allowed

Conference rooms

Bedlinen for rent

Eat & Drink on site
Contact information
Street address 1

City (address)

Phone number

Phone number (booking)

Contact person email

Website
Compare "STF Hostel Älvdalen Tre Björnar" with similar alternatives
At Näset, about 4 km north of Älvdalen with a view over Nässjön, is Näsets bystuga located with up to 20 beds.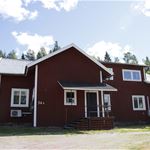 In Gåsvarv, about 5 km south of Älvdalen, overlooking the Österdalriver and the nature around the corner. From here you can walk straight out into the wilderness along the old mountain trails, marked as hiking trails. The village bystuga available to rent for accommodation, meetings and conferences.